Portable Gas Detector
Portable gas detector design with smaller in size and easy to carry. It can be used for workshop routing inspection on gas leakage, as well as in confined spaces test gas detection during inspection operation. Typical portable gas detector application for places and processes as follows:
Maintenance Test : After the equipment has been overhauled and replaced, it is necessary to detect the residual harmful gas or liquid.
Emergency Detection : During abnormal situation occurs at the production area or a gas leak incident happened, the portable gas detector is required to detect any harmful gases or liquids (vapors) for safety, health and environment.
Leak Detection : The flange or pipeline leak hazardous, whether is gas or liquid (vapors), handheld gas leak detector useful to detect the small leak and pinpoint the leak location.
Touring inspection : For safety and sanitation inspections, portable gas detectors are require to detect harmful gases or liquid vapors.
Safety Detection : For workers enter into hazardous area such as material isolation operation room, sewer, cable trench, tunnel, silo cleaning or the inside of equipment to operate, they need portable gas detector for detect harmful gas or liquid-vapor.
Single Gas Detector
H1600 - One of the world smallest detector, intrinsically safe design, IP66, alarm record.
AGH5100 - Fully gripped, compact, rugged design, single-button operation.
AGH8100/AGH8200 - Detect methane/LPG small gas leak, μmol/mol(ppm) range, IP66, built-in sampling pump.
Multi Gas Detector
H2000 - Four gas detector LEL, O2, H2S & CO, customizable gas type, IP66, alarm record.
AGH6100 - Support up to 4 gases, intrinsically safe design, IP66, large LCD, export alarm record data.
AGH6200 - Standard 4 in 1 gas detector CH4, O2, H2S & CO, automatic sound, light, vibration alarms.
Gas Sampling Pump
AGH1000B - Hand-held gas sampling pump, intrinsically safe design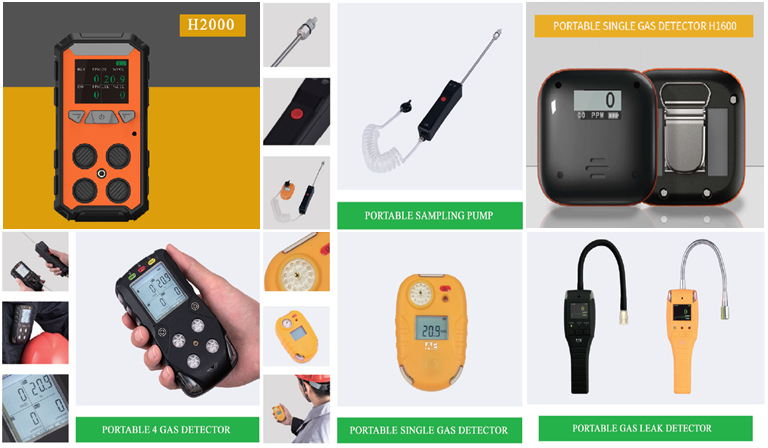 Gas Detection System
Gas detection can be widely applied in places such as petrochemical, chemical, steel, pharmaceutical, power, food & beverage, warehouse, hotel, commercial building, etc where the requirement to detect any of flammable, oxygen and toxic gases.